Project Manager
---
Introduction
To call Project Manager in SynWrite, use one of the following:
open the left panel (with syntax tree) and click "Project" tab below the tree;
use command "Window -- Panels -- Project panel".
Project Manager allows to group files into project structure/tree, which then can be saved to disk in a single file (only listing of files/folders is saved, not files themselves). Project files have "synw-proj" extension.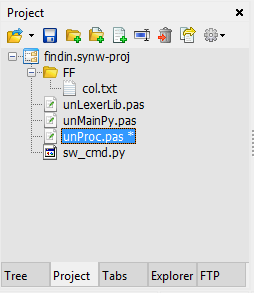 The following toolbar buttons are present in Project Manager:
Open project file
Save project file
Add empty (virtual) folder
Add disk folder's contents
Add disk file(s)
Rename current folder
Delete selected items
Open selected items in editor
Open "Project properties" dialog or "Project tools" dialog
Projects can be made portable in such a way: put all data files into subfolders of a single folder; and save SynWrite project file into the same folder. Then this data folder is "portable" - you can move it and reopen SynWrite project file with no file paths correction.
Drag&drop in project tree
The following kinds of tree nodes' drag&drop are possible in the project tree:
drop node(s) on folder, usual - moves items inside the target folder;
drop node(s) on folder, with Alt key pressed - moves items above the target folder (into the same level as target);
drop node(s) on file - moves items above the target file (into the same level as target).
You can drag&drop files and folders from Windows Explorer into the project tree. This will add items to the project (considering current tree node selection). When you drop a folder, additional "Add folder to project" dialog apears.
"Preview" panel
There is "Preview current project file" panel, just press Space while in Project Manager to show/hide this panel. It shows selected project file contents in a temporary read-only editor. You can dock panel to the edge of main SynWrite window. Use button "Open in editor" on this panel to open previewed file for editing.